How to Combine Liposuction With a BBL for a Perfect Summer Body
Posted August 21, 2023 in Brazilian Butt LIft, Liposuction
3-Minute Read:
It's easy to see why the BBL (Brazilian Butt Lift) has gained popularity in the world of plastic surgery: a curvy, voluptuous backside increases confidence, exudes feminine allure, and compliments every outfit.
The results speak for themselves, but what's really great about this procedure is that it's actually a combination of two surgical techniques: liposuction and fat transfer.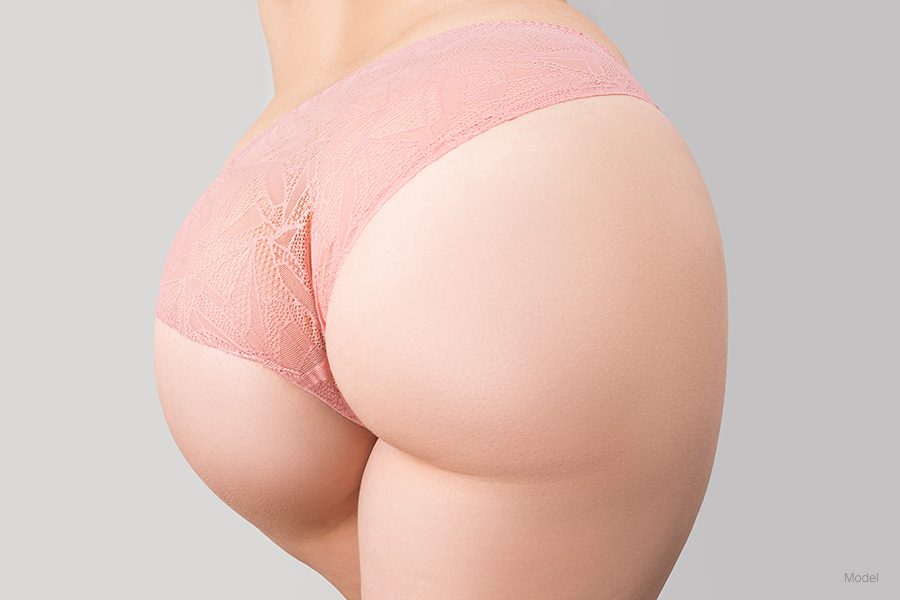 If you want that hourglass figure with a curvy backside and a slim waist, a BBL might be for you.
What Is a BBL?
A Brazilian Butt Lift enhances the shape and volume of the buttocks. Your board-certified plastic surgeon will use a fat grafting technique that removes unwanted fat from the body before purifying and reinjecting it into specific areas of the buttocks for a more plump, contoured result.
During your consultation with Dr. Porshinsky, our highly experienced Brazilian Butt Lift specialist, you will undergo a health assessment to ensure your eligibility for the procedure, have the opportunity to discuss your overall aesthetic goals for your butt enhancement, and determine which areas of the body are ideal for liposuction.
Candidates for a BBL should be in generally good health, have realistic expectations for their results, be nonsmokers, and have enough fat for the liposuction procedure.
Full Body Contouring With Lipo 360 and BBL
Liposuction is a tried and true body contouring method often paired with other body cosmetic procedures, such as Mommy Makeovers, tummy tucks, and BBLs.
Lipo 360 is a revolutionary fat reduction technique that targets the circumference of the midsection, including the abdomen, flanks, and back. This is an excellent option for patients with stubborn fat pockets in these areas and looking for a permanent fat elimination solution.
Liposuction is typically performed under general anesthesia for your comfort. Dr. Porshinsky will make discreet incisions around the areas of concern before inserting a small tube called a cannula to remove the subcutaneous fat through a vacuum.
Your fat cells will then be cleansed, and impurities will be removed before healthy and viable fat cells are inserted back into your buttocks. With skill and precision, Dr. Porshinsky can contour and shape them into a desirable form.
A BBL with lipo 360 is a transformative procedure and can give you a stunning hourglass figure. The benefits of this procedure include:
A tightened, more cinched waistline that flatters your hips and breasts
A rounded, voluminous backside
A more proportionate figure
Contoured yet smooth hips, thighs, and stomach
Combining your BBL with lipo 360 (which Dr. Porshinsky does with all BBLs) can significantly improve the contours of your entire body, giving you a seductive and appealing feminine figure.
Additionally, if you want to complete your hourglass transformation with fuller, more plump breasts, Aria Cosmetic Surgery offers breast surgeries such as breast augmentation and breast lifts to enhance every curve.
Breast surgery will likely be performed either before or after you have recovered from your BBL.
BBL With Lipo 360 in St. Louis, MO
Dr. Porshinsky has performed hundreds of BBL and body contouring surgeries, as he understands the importance of safety and skill involved in these procedures. Choosing a board-certified plastic surgeon specializing in BBL is the best option when considering this procedure, as you can expect the highest care and results.
The entire team at Aria Cosmetic Surgery in St. Louis is committed to providing you with excellent care and courtesy every step of the way. From the initial consultation to follow-up appointments, your needs and concerns come first.
If you're considering BBL surgery, take a look at Dr. Porshinsky's BBL recovery tips for more information.
Interested in Learning More About BBL With Liposuction?
Dr. Brian Porshinsky is one of the leading BBL surgeons in Missouri, who offers a wide range of cosmetic body and facial procedures for all of your aesthetic needs.
Give us a call today at (314) 649-5419 or fill out our online contact form today.